Logistics Domain
- In the context when freight forwarding and logistics markets are growing, becoming professional, competitive and quickly integrated into regional and world markets, as a leading company in logistics field, our Company always accompanies with Customers to develop professional and diverse services, constantly improves the quality of our customer service and carries out effective management. With many years of experience in the field of Logistics, our Company has now been approved by the Government to become an Investor to implement the new project of a Transshipment Port Complex - ICD in Long Binh Ward, District 9 to serve the relocation of Truong Tho Port Area, Thu Duc District with the goal of building an International Port operating in the field of Logistics.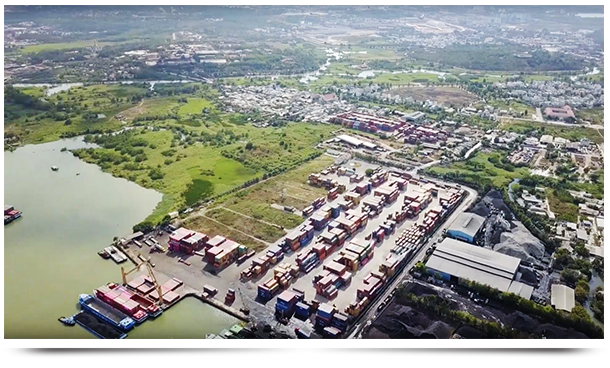 - Located at the center of the most dynamic and potential economic quadrangle in Vietnam, including Ho Chi Minh City, Dong Nai Province, Binh Duong Province and Ba Ria - Vung Tau Province of the Key Economic Zone to the South of HCMC, Long Binh Port is one of the stable rear ports, contributing to transshipment of goods to places, especially for the markets in the economic triangle of Ho Chi Minh City - Dong Nai - Binh Duong. Planning of the new Transshipment port - ICD complex in Long Binh Ward will ensure to meet the demand for use, storage and transshipment of goods of the existing Truong Tho Port area, including further development; as well as meeting the purpose of the City's urban development planning;
- Having experience in the fields of customs clearance services and accompanying services such as bonded warehouse and motor vehicle lease or door-to-door delivery, helping reduce transportation costs, and save storage costs for customers, we used to undertake the following services:
+ Door-to-door delivery of imported and exported goods.
+ Provide customers with the latest information on relevant regulations and procedures issued by the customs and competent authorities.
+ Secure customers' personal information and data.
+ Provide consultation services on customs procedures, application for investment licenses, tax codes, import licenses, etc.