Chairman of the Board of Directors Pham Ngoc Lam and Duc Khai Joint Stock Company were awarded the Third-class Labor Medal
31.12.2014
At the proposal of the Prime Minister, the President of the Socialist Republic of Vietnam has just issued Decision No. 2600/QĐ - CTN to award the Third-class Labor Medal to Duc Khai Joint Stock
Company and Mr. Pham Ngoc Lam, the Chairman of the Board of Directors. Pursuant to this decision, Mr. Pham Ngoc Lam and Duc Khai Joint Stock Company (District 5, HCMC) have made outstanding achievements in compensation and clearance work as well as building social houses in Ho Chi Minh City, actively participating in social charity work from 2009 to 2013, and contributing to building Socialism and national defense.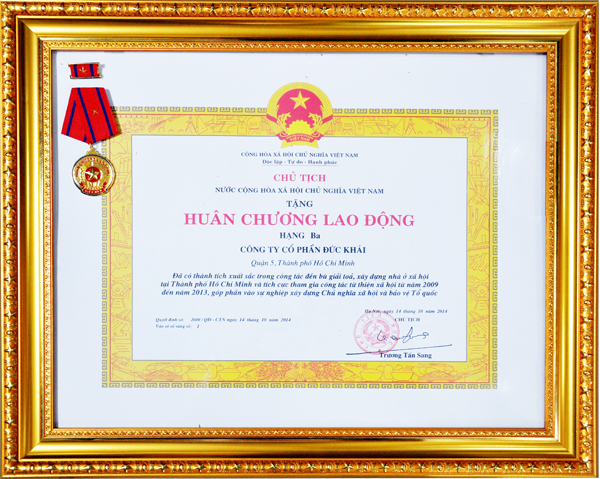 - Established since 2005, up to now, Duc Khai Joint Stock Company, founded, managed and administered by Mr. Pham Ngoc Lam, has made great progress. During its development journey, cooperating with the leaders of Duc Khai Joint Stock Company, Mr. Pham Ngoc Lam has always been taking the lead in developing new models to serve social security needs.
- Mr. Pham Ngoc Lam always pays special attention to directing the construction of the Compensation and Clearance Joint Stock General Corporation. This is the first non-state enterprise in the country to take the lead and pilot under the Government's policies in the fields: "Compensation negotiation, site clearance, creating clean land fund; giving advice on resettlement and temporary residence; property auction; Construction of houses of all kinds; construction of road and railway works; construction of public works; construction of other civil engineering works; demolishment; premises preparation; real estate business".
- This is an outstanding field of Duc Khai JSC, which has been the passion of Mr. Pham Ngoc Lam in recent years. The Corporation has actively participated in the implementation of compensation, site clearance and investment in construction projects as follows: The Apartment Building Project at 192 Nam Ky Khoi Nghia, Ward 6, District 3; Project of Social Houses at 19/19 Lac Long Quan, Ward 9, Tan Binh District; Dong Tang Long Social House Project, District 9; Hospital for Traumatology and Orthopedics Project in Zone 6A, South City Urban Area, Binh Hung Commune, Binh Chanh District; Newly built Phan Dinh Phung Sports Center at 08 Vo Van Tan Street, Ward 06, District 3, including a Multi-purpose Arena with a capacity of about 4,000 seats and supplementary services for local and international athletes, coaches and supporters.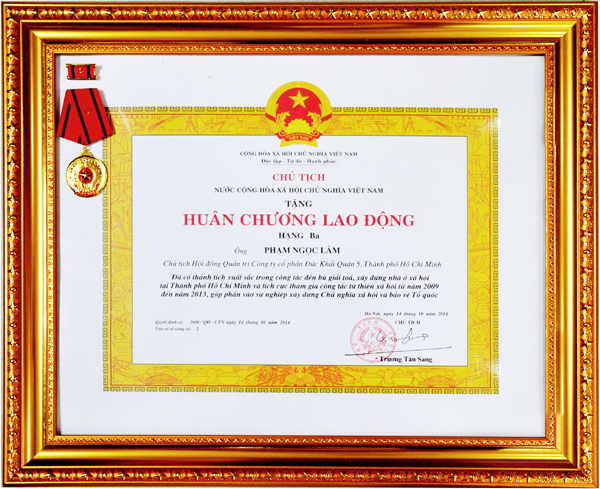 - Though having participated in building social houses like many other businesses, Mr. Pham Ngoc Lam and Duc Khai JSC desire to change the perspective of looking at social and resettlement houses. In the time of global economic difficulties, Mr. Pham Ngoc Lam has made a lot of efforts and up to now Duc Khai Joint Stock Company has basically completed the projects of resettlement and social houses whose quality is as high as that of commercial houses. These projects are: Phu My Resettlement Area, Phu My Ward, District 7; Binh Khanh Resettlement Project (Lot R6 + Lot R7), Binh Khanh Ward, District 2, within the Thu Thiem New Urban Area.
- Not only outstanding in the new field of participation in clearing compensation and real estate, but Duc Khai Joint Stock Company also continues to operate effectively, having higher profit in subsequent years than that of the previous years in the commercial – service and petrol fields, well fulfills financial obligations to the State; its staff's income and life keep improving; creates jobs for thousands of workers in many localities throughout the country; makes a lot of contributions to the society (the amount of donations has amounted to over VND 30 billion); the Company's position in the country's market economy is increasingly raised and highly appreciated by many international organizations.